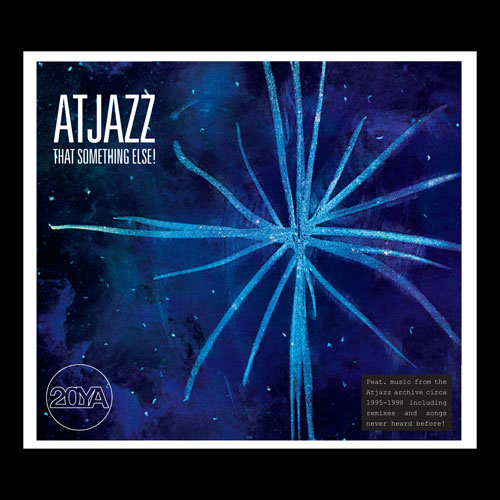 Titel
20YA: That Something Else!
Label
Atjazz Record Company
Beschreibung
After a storming 2016 celebrating Twenty Years of Atjazz, where the master musician himself has spent the year jetting all over the globe performing shows to both loyal fans and new converts alike, Atjazz Record Company is very excited to crown this hugely successful year with a release like no other. Please allow us to present: That Something Else!.

We start with a real treat: the re-release of Atjazz's debut album, That Something, for the very first time on digital formats and never before re-issued. Originally released on the DiY Diversions and Sony (Kioon) labels in 1998, the album has been remastered and re-edited for the 21st century by Atjazz himself. Whilst each track has been delicately tweaked, special treatment has been given to the seminal effort, "Wind & Sea", taking an already well loved track to the next level.

Also included is a selection of previously un-released tunes from the basement archives here at ARCo. Labs. These gems were originally recorded onto digital audio tapes between 1995-97 but never unveiled. They have now had new life breathed into them and have found a welcome home in this celebratory work of Atjazz.

Finally we have included a collection of recovered and reclaimed works that were created in the early days of Atjazz's phenomenally productive career. With remixes from today's finest artists, including Nacho Marco, Charles Webster, Trueself, Si Tew and the master Atjazz himself, the only disappointment is that we couldn't include more from the extensive canon of this titan of house music.

Atjazz himself has expressed his own astonishment and gratitude at the level of love and support that he has received over the last 20 years. He has spent his life in the house music industry, quite rightly becoming the byword for high-production values, musical integrity and total commitment to creating music that not only moves the body but warms the soul. Here's to the next 20 years!
Bitte gib hier Deinen Vornamen ein
Gib hier bitte Deinen Nachnamen ein
Bitte gib hier Deine e-mail-Adresse ein
Diese e-Mail-Adresse ist nicht gültig
Please enter your phone number