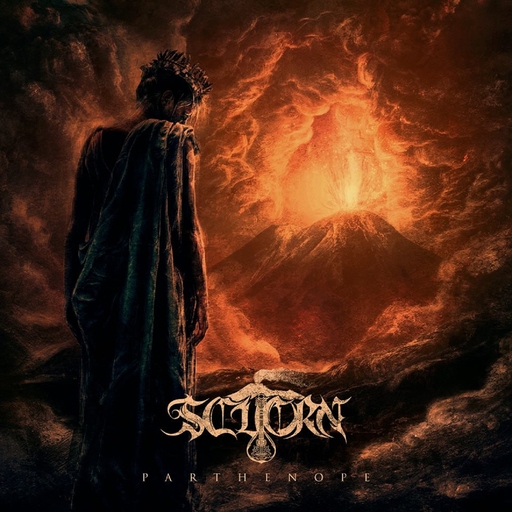 Beschreibung
"Neapolitan song" has inherently influenced much of the popular and folk italian music and it's worldwide renowned for its expressive and communicative power.
Its origins date back to the XIII century and over the centuries has come down to us, keeping unchanged its attractiveness.

SCOURN (which means "shame" in Neapolitan language) was founded in Naples in 2008 by Giulian (Vocals, All Instruments & Orchestral Arrangements) properly to worship the cult of Parthenope by revealing the most ancient legends and history of the mysterious Neapolitan lands, known over the centuries for their hellenic and roman origins and for being fervent cradle of the Italian culture.

After signing in middle 2016 a two-albums deal with Dusktone, in Ferbruary 2017 SCOURN released the much-anticipated debut album "Parthenope", recorded mixed and mastered at the world-acclaimed 16th Cellar Studio in Rome in 2016 by the producer Stefano "Saul" Morabito (FLESHGOD APOCALYPSE, HOUR OF PENANCE).

Very special guest on the album is the "maestro" Riccardo Studer (from Italian extreme epic metal pioneers STORMLORD) who shaped an impressive orchestra for this incredible debut album. The concept album is focused on the most ancient greek-roman origins of Naples, and each song is related to a specific legend from those times, such as the 79 a.d. volcano Vesuvio's eruption who destroyed Pompeii and many others.

Riccardo Studer commented the orchestral bonus CD version : " "The orchestral scoring for this album was a long and intense process, but extremely rewarding. Giulian and I worked out how the music should sound to create the right atmospheres and setting according to Parthenope's concept and lyrics. The result was a truly massive and majestic orchestral texture, with full instrumental ensemble and the addition of the parthenopean traditional folk instruments, the band's unique trademark. It was a really exciting challenge, brace yourselves …"
Bitte gib hier Deinen Vornamen ein
Gib hier bitte Deinen Nachnamen ein
Bitte gib hier Deine e-mail-Adresse ein
Diese e-Mail-Adresse ist nicht gültig
Please enter your phone number