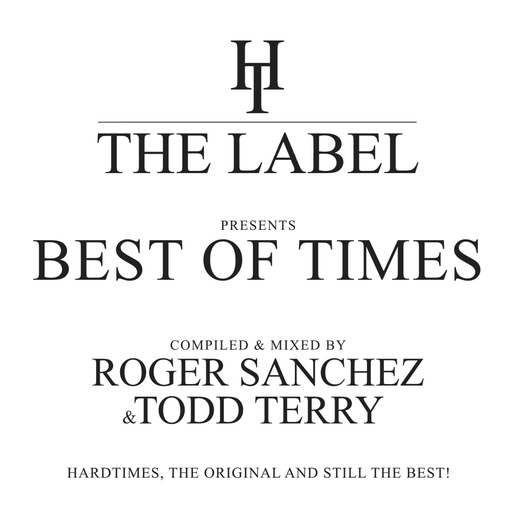 Interpret
Various Artists
Artikelnummer
HTCOMPCD001
Beschreibung
Back in '95 when the term Superclub was first used, (a title we very much distanced ourselves from) and the club compilation was still very much in its infancy, HardTimes released Roger Sanchez The Album and Todd Terry Live at HardTimes. Both would receive worldwide critical acclaim, be described as musical masterpieces and win club compilation of the year and a brilliant reflection of a night at HardTimes by the likes of Mixmag, DJ Magazine, Muzik Magazine and Billboard.

22 years on, we are set to release the follow-up to those two amazing compilations. So it's no surprise we have gone back to the two men who understand our unique musical ethos and have contributed more than anyone to our success - my friends Roger Sanchez and Todd Terry. Working together for the very first time they have both compiled and mixed HardTimes presents The Best of Times Album. HardTimes has always been about modesty. It's about making the most of what we have no matter how tough life can be. When you walk through the doors of the club that's full of like-minded clubbers,
all there to feel the vibe that's created by the DJs and the tracks they play, everything is forgotten.

It's a wonderful experience that I've been able to help create. There is no greater feeling than witnessing a mass of people as they shift from listening to feeling the music and watching the club go off. When you connect with the music, that's when the magic happens. We have never been about glitter, gimmicks, bells and whistles. We play house music. That's what we're about. It's always been about the music. History shows HardTimes would be voted Mixmag club of the year and join a very elite group. Both Muzik Magazine and DJ Mag would also name HardTimes the number 1 night
in the country.

Our Best of Times Album is a true reflection of one of our magical nights. A mixture of old and current tracks that in their own way have all played a part in our success. Our history is our legacy and we are proud of it.
Bitte gib hier Deinen Vornamen ein
Gib hier bitte Deinen Nachnamen ein
Bitte gib hier Deine e-mail-Adresse ein
Diese e-Mail-Adresse ist nicht gültig
Please enter your phone number