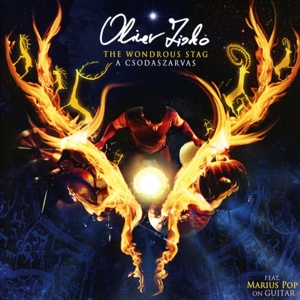 Titel
The Wondrous Stag / A Csodaszarvas
Label
Author's Edition / Ráció Szerszám KFT
Beschreibung
Oliver Zisko was born in 1977 and started playing the drums in 1992. Autodidact musician. He did not studied any known institutes. He learned to read scores and the basics of jazz and afro music at the Bela Bartok music school in Szombathely, Hungary, for 2 years and He was a private student of the Hungarian Jazz Conservatory's drum teacher, Ivan Nesztor for another 2 years. "Omnivorous", He can fit Himself into different music genres. He played together with several popular Hungarian singers and musicians and His drumming can be heard on adout 20 albums and audio materials. He was the member of the well-known underground band: Sear Bliss two times, as keyboarder, as drummer and song writer and played many gigs at festivals and clubs all over Europe. He was a member of the romanian Marius Dobra Band between 2013 and 2015. They took part inter alia in the biggest European blues competition - European Blues Challenge 2015 - at one of the world's biggest concert hall - Ancienne Belgique at Brussels, Belgium, amongst the best European blues bands.
He was the writer of the Hungarian Musician magazine's Drum Instructional section from 2009 to 2012. He is a member of several projects nowadays and He's doing live sessions and studio recordings.
He created two drum teaching materials. The first,"Improvisation, technical exercises for drumset" which was a score book with an audio CD was published in 2006. This publication contains a lot of informations, several drum technical ideas, improvisational models, many lessons and exercises for the hands and feet,for one and two bass drum sets. The other was a DVD with a solo CD, it's title: "100% Drumming", issued in 2009.
In 2011 - probably first time in the world - He worked out a new idea where He uses flaming drumsticks - burning at both ends. This is a mixture of two art genres, fire juggling and drumming.
Bitte gib hier Deinen Vornamen ein
Gib hier bitte Deinen Nachnamen ein
Bitte gib hier Deine e-mail-Adresse ein
Diese e-Mail-Adresse ist nicht gültig
Please enter your phone number