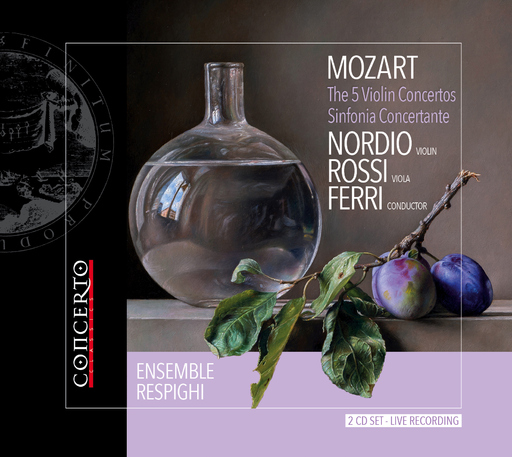 Titel
MOZART - THE 5 VIOLIN CONCERTOS - SINFONIA CONCERT
Interpret
ENSEMBLE RESPIGHI ORCHESTRA, FEDERICO FERRI
Beschreibung
Within Mozart's vast catalogue of works, though not the most featured instrument, the violin has a very
important place. It was to this instrument, which was indeed well known to him (his father Leopold was the
author of a book of violin technique which is still remembered today), that the composer dedicated himself
since his early years. The most famous and frequently performed masterpieces are certainly the last three of his
five concerts with orchestra (K 219-211-216-218-207) which together with the Sinfonia Concertante for Violin
and Viola, K. 364, make up the program of this live recording which all use essentially the same instrumentation (strings,
two oboes and two horns). All five of them were composed (and perhaps performed) by the nineteen year old composer
at the court of the Archbishop of Salzburg Hieronymus von Colloredo between April and December '75.
The genre of the 'Sinfonia Concertante' was born in Paris in the second half of the eighteenth century. The Mozart's Sinfonia
Concertante in E flat for Violin and Viola K. 364 leads the genre to its perfection and, in a sense, beyond it, making it one of his greatest
masterpieces, certainly the biggest of the Salzburg period. This live recording of the mozartian opera, boasts two of the best leading
contemporary Italian soloists, Domenico Nordio and Danilo Rossi, together with the Ensemble Respighi directed by Federico Ferri.
Bitte gib hier Deinen Vornamen ein
Gib hier bitte Deinen Nachnamen ein
Bitte gib hier Deine e-mail-Adresse ein
Diese e-Mail-Adresse ist nicht gültig
Please enter your phone number