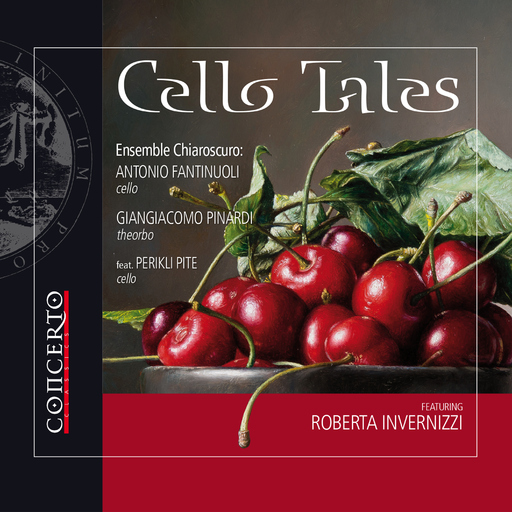 Interpret
ENSEMBLE CHIAROSCURO
Beschreibung
The main theme of this work of the Ensemble Chiaroscuro follows closely that of the first disc (also produced by Concerto Classics, "Baroque
Enchantment"): the proposal is to collect a series of pieces to form a sort of concert program, in order to tell a true story in music, hence the
title "Cello Tales". The listener will in fact be led, through the notes of Antonio Fantinuoli cello, in a journey of rediscovery of the great masters
and pioneers of the leading instrument of this recording, unearthed by a careful research of ancient manuscripts done by the same artist.
From Giovanni Battista Degli Antonii and Giovanni Battista Vitali, to Domenico Gabrielli and Francesco Alborea, passing through Giovanni
Battista Somis and Luigi Boccherini, up to Joseph Clemens dall'Abaco, all the most significant compositions that punctuate the technical
evolution of the instrument from the seventeenth century to the eighteenth century until the final tribute to the 'father' of all cellists J.F. Dotzauer.
The beautiful sound of the cello as the only protagonist, therefore: Antonio Fantinuoli is accompanied on this trip, as well as by Giangiacomo
Pinardi and his theorbo (an integral part of the Ensemble), also by Perikli Pite at the cello and Craig Marchitelli with the theorbo. Special
guest Roberta Invernizzi in an Aria of Gabrielli.
Bitte gib hier Deinen Vornamen ein
Gib hier bitte Deinen Nachnamen ein
Bitte gib hier Deine e-mail-Adresse ein
Diese e-Mail-Adresse ist nicht gültig
Please enter your phone number