book distribution"/>
Formular
hier
ausfüllen und unverbindlichen Vertriebsvertrag anfordern. Unser Vertriebsteam wird sich mit Dir in Verbindung setzen.
CD Distribution Channels
As an established CD distributor and CD wholesaler in Germany, we have all the necessary distribution channels and music management tools to bring your physical product to market. Several big-name music labels and artists have already explored the world of CD wholesale distribution through Nova MD. Here you have an overview of all current sound carriers in the music distribution industry.
Top Releases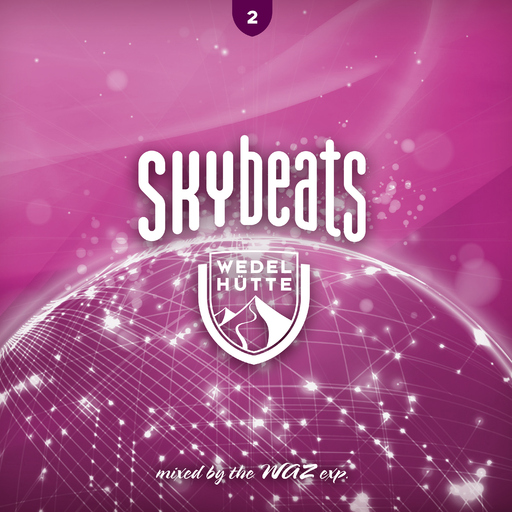 Nach erfolgreichen Start von Skybeats 1 präsentiert Musicpark records in Zusammenarbeit mit der Wedelhütte nun die Fortsetzung des Soundtracks zur Schisaison 2016/17.
Mit feinst ausgewählten Sounds von Laid-Back bis Deep House vermittelt die neue CD der Wedelhütte einen Hauch von Ibiza Beach-Club feeling in die Alpen.
Die exquisite Zusammenstellung mit Top Artist wie Claptone, Rüfüs, Satin Jackets, Bob Moses, Set Mo und viele andere wurde compiled von Musicpark Label Boss M. Lackmaier und gemixt von resident DJ The Waz exp..

1. Ambala feat. Laid Back - Walk With The Dreamers
2. Satin Jackets feat. Emma Brammer - We Can Talk
3. Rüfüs - Say a Prayer For Me
4. Bob Moses - Tearing Me Up (RAC Mix)
5. Woods Of Birnam - Down (Charity Remix)
6. ER Fr, Peterson Fr - Coconut Skins (Time (FR) Remix)
7. Lovebirds - Free (Beautiful Rework)
8. Jonas Woolf - Remember
9. Alex Hook feat. Shyam - Walk Into The Night (Original Mix)
10. Claptone - The Only Thing (Original Mix)
11. Hanne & Lore - Supergirl
12. Set Mo - White Dress feat. Deutsch Duke (Extended Mix)
13. Saison – Say You're Mine
14. Ferrari & Bergamasco ft. Marc Evans - Josephine (Eric Kupper Vocal Mix)
15. Alaia & Gallo feat. Kevin Haden - Who Is He ?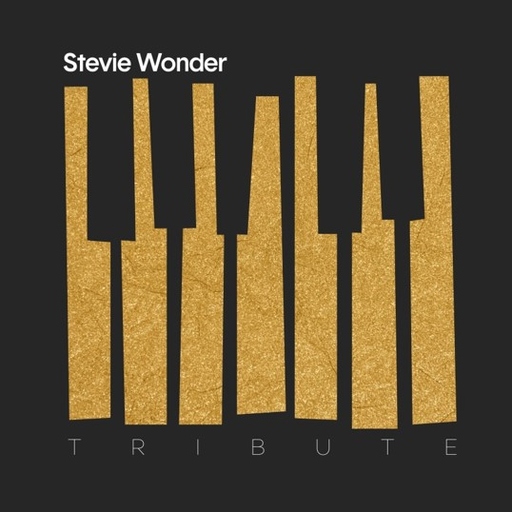 Pocas veces encontraremos en la historia de la música moderna un cantautor tan especial y carismático con tantos números uno como Stevie Wonder. En este tributo, realizado por diferentes cantantes y bandas de todo el mundo, se recogen algunas de las obras más representativas de su carrera versionadas en diferentes estilos musicales: Del pop al reggae, pasando por el jazz, funky o incluso garage. Un viaje musical rememorando al mágico Stevie que estamos convencidos no dejará indiferente

1- Part -Time Lover
2- Superstition
3- Do I Do
4- As
5- Sir Duke
6- I Just Called To Say I Love You
7- For Your Love
8- Isn't She Lovely
9- You Are The Sunshine Of My Life
10- Master Blaster (Jammin')
11- My Cherie Amour
12- Signed, Sealed, Delivered (I'm Yours)
13- Another Star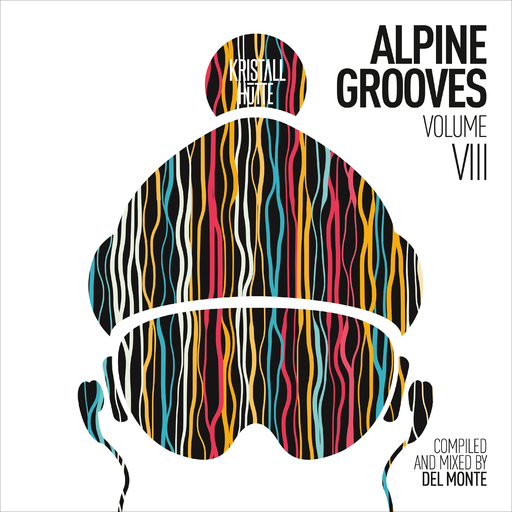 Die stylischste Skihütte in den Zillertaler Alpen in Österreich präsentiert mit ALPINE GROOVES VOL. 8 die nunmehr achte Ausgabe der House-eigenen Compilation.
Auch Alpine Grooves vol. 8 besticht wieder durch guten Geschmack und mit feinst ausgewählten Sounds; compiled und gemixt von Resident DJ Del Monte und Muscpark Label Boss M. Lackmaier.
Der Mix mit einem Auszug der besten Deep-House, Lounge und Indie-Dance Tracks von Interpreten wie Tube & Berger; Andhim; Rüfüs; Jan Blomqvist etc. lädt zum stilvollen Verweilen auf der Sonnenterasse ein und lässt dabei Ibiza-Beach-Clubfeeling aufkommen... hört rein und lässt euch überzeugen!!!

1. Riccicomoto - Shadows and Lights (Pazul and Deepling Remix)
2. Whilk & Misky - Clap Your Hands (Solomun Remix)
3. Film - Dorian (Original Mix)
4. Jan Blomqvist feat. Elena Pitoulis - More (Extended Mix)
5. Lorenzo al Dino ft. Cope - Good Times (DeepFM Remix)
6. Martin Eyerer ft. Abby - Turn Turn Turn (Chopstick & Johnjon Remix)
7. Tube & Berger feat. Richard Judge - Ruckus (Club Edit)
8. Gabriel Ananda & Alice Rose - Fields Of Dreams
9. Marcapasos - Almost Anything (Yves Murasca Re-Work)
10. Andhim - Boy Boy Boy (Joris Voorn Remix)
11. Dele Sosimi Afrobeat Orchestra - Too Much Information (Laolu Remix Edit)
12. Namito & Brams - Yto (Gabriel Ananda Remix)
13. Thomas Lizzara feat. Steven Coulter - Berlin My Love (Lizzara & Klixx Remix)
14. Portable - Surrender feat. Lcio
15. Rüfüs - Innerbloom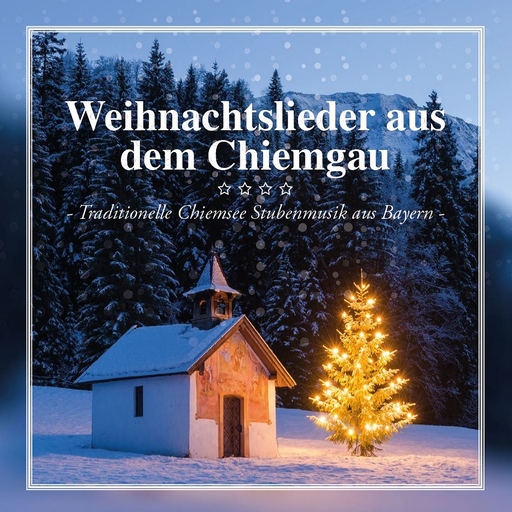 Echte Bayerische Volksmusik für Advent und Weihnachten. Festliche Bläserweisen, Weihnachtslieder, Harfe und Stubnmusi aus dem Chiemgau und Rupertiwinkel in den bayerischen Bergen.

1. Das Wallfahrtskircherl 2. Tauet Himmel 3. A scheene Weis 4. Jetzt fangen wir zu Singen an 5. Einschneibn tuats 6. Ich brach drei dürre Reiselein 7. Bauernmenuett 8. Andacht 9. Ettenberger Weis 10. Gegrüßt sei Maria 11. Menuett aus Niederösterreich 12. Mei wos gibt's denn neies 13. Der ganz der Ander 14. Pass auf di auf 15. Maria ging übers Gebirge 16. Deutscher Tanz 17. Hefauer Weis 18. Geborn ist uns ein Kindelein 19. Schneeglöckerl Boarischer 20. Seht ein Stern geheimnisvoll 21. Weisatlandler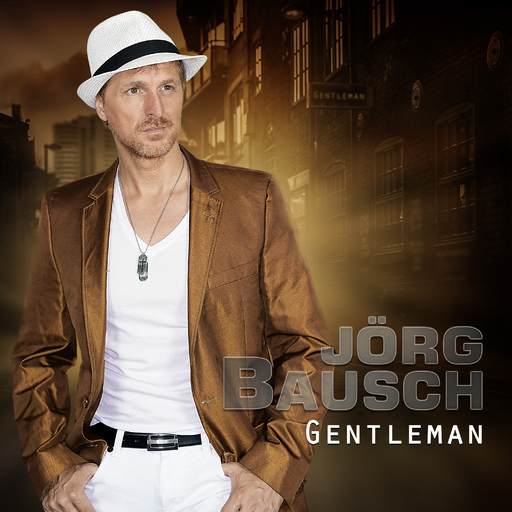 1. Ich leb ab heut wie damals
2. Schreib Ihr einen Liebesbrief
3. Auf anderen Wegen
4. So will ich leben
5. In mir tobt ein Orkan
6. Ich lieg so da
7. Ich kann nicht lachen wenn Du weinst
8. Nur ein Like
9. Laberrababer
10. Endlich Wochenende
11. Wie wird man seinen Schatten los
12. Du bist das Lied in meinem Kopf
13. Die Zeit einfach zurückdrehen
14. In mir tobt ein Orkan (Club Mix)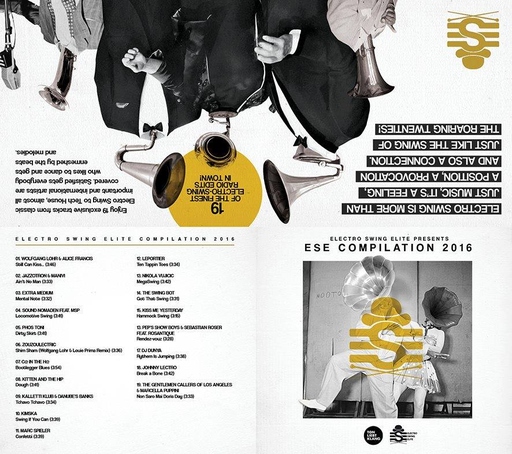 Die Electro Swing Elite Compilation geht in die dritte Runde! Auch 2016 sind wieder 19 exklusive Tracks von 27 verschiedenen Artists vertreten. Das besondere Bonbon diesmal, alle Tracks werden zusätzlich, als Radio Edits, im offiziellen Handel auf CD erhältlich sein. Digital gibt es wie gewohnt die längeren Club Mixes, die besonders für DJ's ihren Reiz ausmachen. Release ist im Oktober/November 2016, bei dem Hamburger Label Ton liebt Klang. Das Aufgebot an Artists erstreckt sich über den gesamten Globus, quasi ein Querschnitt durch die weltweite Electro Swing-Szene. Musikalisch wird von solidem Electro Swing, über Neo Swing, bis hin zum Swing House alles geboten. Glücklich wird hiermit jeder Listener, DJ und auch Clubgänger, der gerne tanzt und sich von treibenden Beats und flotten Melodien umgarnen lässt. Electro Swing ist mehr als nur Musik, es ist ein Gefühl, eine Haltung, eine Provokation und auch eine Verbindung. So wie der Swing der Roaring 20's es auch schon immer war!

The Electro Swing Elite Compilation enters the third round! In 2016 also, 19 exclusive tracks are represented again by 27 different artists. The special treat this time is that; in addition, all tracks will be made available in official trading on CD as radio edits. Digital, there are the longer Club mixes as usual, which is appealing for DJ's especially. Release is scheduled for October/November 2016, at the Hamburg label "Ton liebt Klang". The array of artists stretches over the entire globe, almost a cross section of the global Electro Swing scene. Musically, everything is offered by solid Electro Swing, about Neo Swing, till the Swing House. Hereby, every listener, DJ and clubbers, who likes to dance and ensnare themselves by driving beats and snappy melodies can be is happy. Electro swing is more than just music, it's a feeling, an attitude, a provocation and a connection. Just as the Swing of Roaring 20's also has already always been!


01. Wolfgang Lohr & Alice Francis - Still Can Kiss...
02. Jazzotron & Manivi - Ain't No Man
03. Extra Medium - Mental Note
04. Sound Nomaden feat. MSP - Locomotive Swing
05. Phos Toni - Dirty Skirt
06. Zouzoulectric - Shim Sham (Wolfgang Lohr & Louie Prima Remix)
07. C@ in the H@ - Bootlegger Blues
08. Kitten and The Hip - Dough
09. Kalletti Klub & Danube's Banks - Tchavo Tchavo
10. KimSka - Swing If You Can
11. Marc Spieler - Confetti
12. LePortier - Ten Tappin Toes
13. Nikola Vujicic - MegaSwing
14. The Swing Bot - Got That Swing
15. Kiss Me Yesterday - Hammock Swing
16. Pep's Show Boys & Sebastian Ro?ser feat. Rosantique - Rendez-vouz
17. Dj Dunya - Rythem Is Jumping
18. Johnny Lectro - Break a Bone
19. The Gentlemen Callers of Los Angeles & Marcella Puppini - Non Saro Mai Doris Day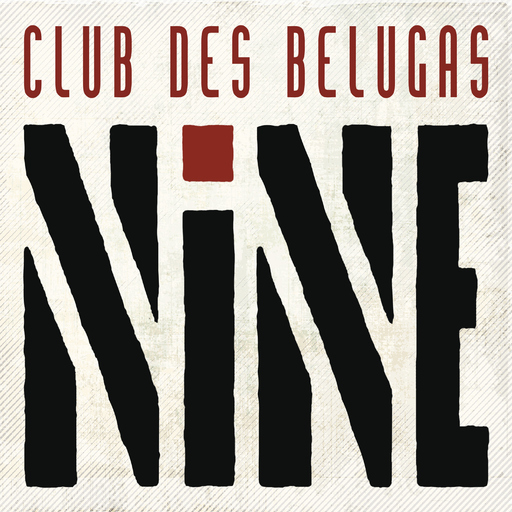 Club des Belugas are releasing their 9th studio album, which is simply called NINE. It's a 2 CD album with 30 tracks in total, 14 brand new ones and 16 mostly unreleased remixes.
This 2 CD album is available for the price of 1 CD!
Many well-known vocalists appear on this fantastic album:
Anna-Luca (Sweden), Anne Schnell (Germany), Ashley Slater (UK), Brenda Boykin (USA), Dean Bowman (USA), Ester Rada (Israel), Iain Mackenzie (UK) and Veronika Harcsa (Hungary).
As always Club des Belugas are combining contemporary European Nujazz & Electro Styles with Cuban & Brazilian Beats, Swing and American Black Soul and Funk of the fifties, sixties & seventies using their unique creativity and intensity.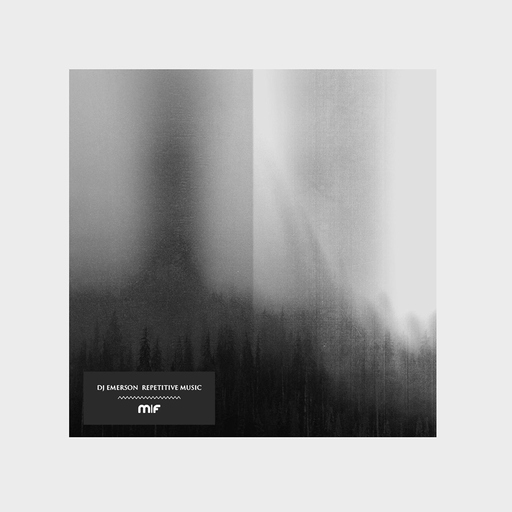 DJ Emerson gehört zu den Veteranen der deutschen Techno Szene.

Er hat seit Beginn des Jahrtausends Platten auf so unterschiedlichen Labels wie Desolat, CLR, Analytic Trail oder Electric Deluxe veröffentlicht und nebenbei noch fleißig seine eigenen Labels kiddaz.fm und micro.fon bedient.

Diesen November erscheint das dritte Studioalbum des Berliner Musikers mit dem Namen Repetitive Music: Musik die sich wiederholt.

Auf seiner dritten LP präsentiert sich DJ Emerson als Dancefloor Routinier der stets darauf bedacht ist das bei dieser Platte keine Langeweile aufkommt.

Von Ambient über Tech House bis hin zu purem Techno und zurück über Drum'n'Bass, Reggae und Deep House hat er hier einiges an Einflüssen verarbeitet.

Direkt danach folgt Manuka ein laut polterndes Tech-House Stück das auch in jedem Techno Set funktioniert.

Baba ist ein typischer DJ Emerson Track. Eine stolpernde Kickdrum, verzerrte Stimmfetzen und das sphärische Vocal schaffen mit wenigen Elementen eine Wall of Sound die einen sofort in ihren Bann zieht.

Auf der 2ten hälfte des Albums geht es etwas experimenteller zu und Emerson arbeitet seine break-beat Vergangenheit auf was man an Stücken wie Call It What You Want (Album Dub) und dem Jungle Stück Skyhigh feat Circuit Breaker gut hören kann.

No Work Today und Nola präsentieren subtilere Grooves gepaart mit analoger Wärme und Tiefe.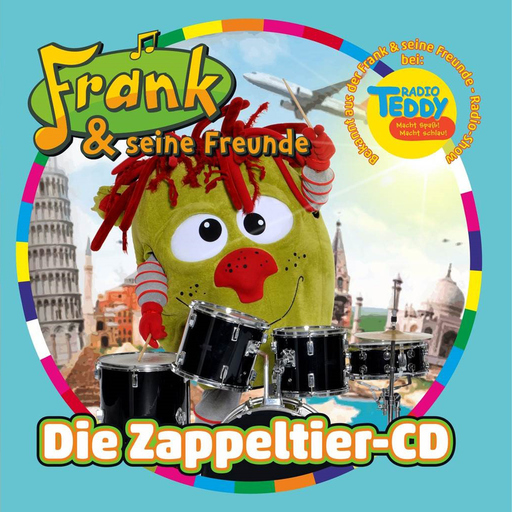 Das Zappeltier -bekannt durch das Kindermusikprojekt "Frank & seine Freunde" um Kindermusiker Frank Acker, welches bereits große Erfolge verzeichnen konnte- macht sich ab sofort mit seiner ersten CD auf neue, eigene Wege im Bereich der Kindermusik.
Mit seiner eigenen CD möchte das Zappeltier die Kinderzimmer wieder neu aufleben lassen und noch mehr gute Laune verbreiten.

Bei den 13 Songs stehen Spaß und Bewegung an erster Stelle und der stressige Kindergarten- und Schulalltag soll sich mit dieser Musik einfach noch viel besser bewältigen lassen.

Von den eigenen Songs des Zappeltiers ("Wie ein Zappeltier" und "Zappeltier") bis hin über neu aufgelebte Songs wie bspw. "Wenn du fröhlich bist", ist eine Menge Abwechslung dabei und die Lieder laden direkt zum Mitsingen ein und bleiben im Ohr.
Probleme in der Schule? - Dann erklärt das Zappeltier bei Songs wie "Kein Problem" oder der "Lachnummer", dass es alles auch wieder gehen wird und einfach auch viel mehr gelacht werden muss. Zu Songs wie dem "Zappel-Rappel", "Schnick Schnack" oder "ManaMana" kann ausgelassen mitgezappelt werden.

Und auch mit Freunden zusammen oder in Kindergärten und Schulen, verbreiten Songs wie "Klick Klick", wo alle Kinder sich wie Robotoren bewegen oder beim "Stopp-Hopp-Song" plötzlich genau so stehen bleiben müssen, wie sie gerade stehen, einfach nur gute Laune.
Please enter your first name
Please enter your last name
Please enter your email address
This email address is not valid
Please enter your phone number