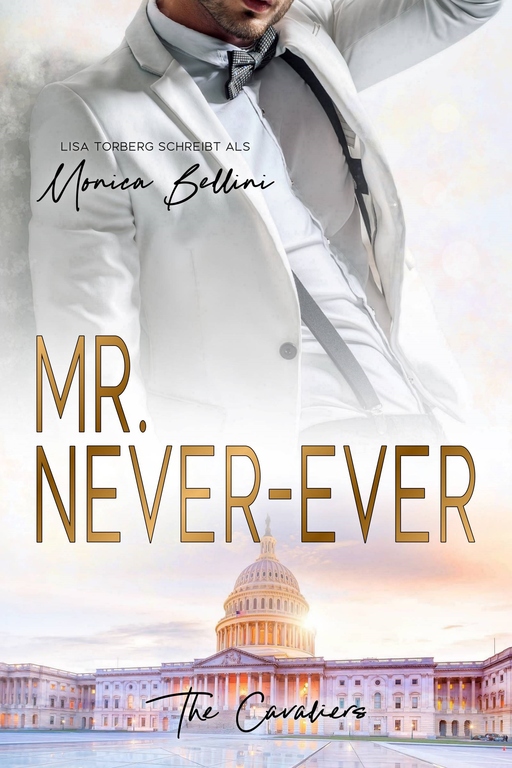 Title
Mr. Never-Ever
Author
Torberg, Lisa / Bellini, Monica
Description
Ihre Initialen ergeben das Wort CAVALIER … was sie definitiv sind … abgesehen von atemberaubend sexy und scharf wie Chili. Kurz gesagt: Hot as Hell.
Sie sind The Cavaliers.
C.A. sind die Initialen des Amerikaners Clive Atkinson. Das ist seine Geschichte.

Clive Atkinson arbeitet in Genf für die Vereinten Nationen. Er geht in seinem Job auf, nur gelegentlich gönnt er sich einen One-Night-Stand – vom Flirt bis zum Sex, nie darüber hinaus. Bis er über sein weibliches Pendant stolpert …
Die Journalistin Janet Thompson ist zwar blauäugig und blond, aber vom Barbie-Klischee eine Galaxie entfernt. Die Überholspur gehört ihr. Ihre Kollegen können lediglich ihre Rückseite bewundern, als sie im europäischen UN-Headquarter akkreditiert wird. Karriere ist alles, Männer nur ein gelegentlicher Zeitvertreib. Und so verwirrend dieser superheiße Clive auch ist – mehr als eine Nacht ist nicht drin!

Abgeschlossener Liebesroman mit heißen Szenen und Happy End.

Mr. Never-Ever ist der erste Roman der Reihe The Cavaliers. Alle Bücher können ohne Vorkenntnisse gelesen werden.
Please enter your first name
Please enter your last name
Please enter your email address
This email address is not valid
Please enter your phone number