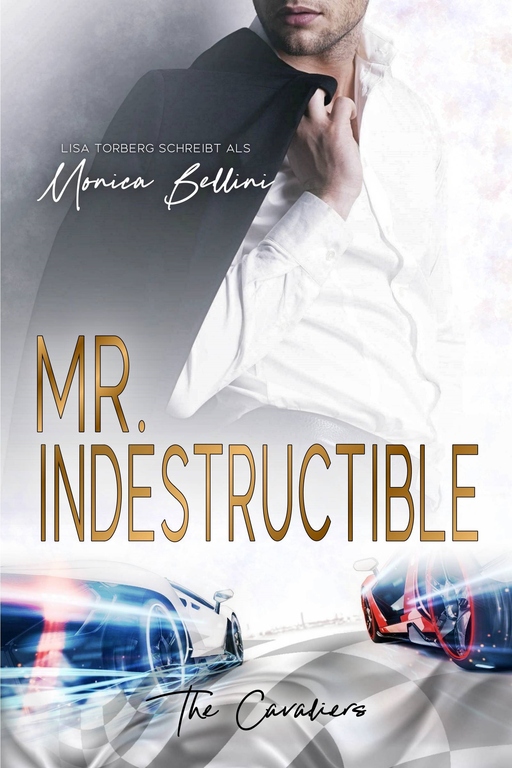 Title
Mr. Indestructible
Author
Torberg, Lisa / Bellini, Monica
Description
Ihre Initialen ergeben das Wort CAVALIER … was sie definitiv sind … abgesehen von atemberaubend sexy und scharf wie Chili. Kurz gesagt: Hot as Hell.
Sie sind The Cavaliers.
L.I. sind die Initialen des Amerikaners Lance Iverson. Das ist seine Geschichte.

Lance Iverson, der Besitzer eines der erfolgreichsten Rennställe der NASCAR, lebt für seine Rennwagen und sein Team. Frauen sind nicht einmal eine Nebensache. Bis ausgerechnet sein schärfster Konkurrent eine Vollblutmechanikerin einstellt, die ihren männlichen Kollegen um nichts nachsteht und Eier in der Hose hat. Beruflich gesehen. Denn abgesehen davon ist sie ein Wahnsinnsweib, das ihn aufs Blut reizt – und ständig abblitzen lässt.
In Carmen Underwoods Leben sind keine Männer vorgesehen. Erst recht nicht, als sie endlich aus der Formel 1 in die NASCAR wechselt und ihren Traumjob in ihrer Heimatstadt Daytona Beach antritt. Wäre da nicht dieser Wikingertyp, der ihr mit seinen Flirtversuchen gehörig auf die Nerven geht. Bis ein Rennwagen Lance unter sich begräbt ...

Abgeschlossener Liebesroman mit heißen Szenen und Happy End.

Mr. Indestructible ist der zweite Roman der Reihe The Cavaliers. Alle Bücher können ohne Vorkenntnisse gelesen werden.
Please enter your first name
Please enter your last name
Please enter your email address
This email address is not valid
Please enter your phone number