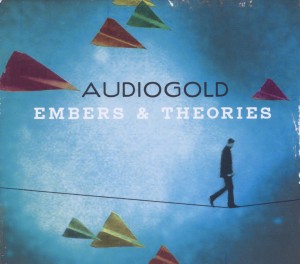 Title
embers and theories
Description
North Londons AUDIOGOLD debut album Embers and Theories is a tour de force of musicality, bringing together
a diverse range of genres, timbres, and soundscapes. The album defines their distinctive sound as one that will
stand the test of time. The songs range across a diversity of musical influences, without sounding like a watered
down version of any of them. Four musicians, with four individual styles and influences meld together their
differences to create something magical. Unlike other bands where the drum beat is the foundation, the acoustic
guitar here is more of the leader. The electric guitar compliments and weaves around the acoustic rhythm, and
the bass and drums accompany the others to create a much more musical sound. Each band member musically
supports each other and this shows through in each song. Complemented by Raphael Hurwitz's string
arrangements, these songs are far from average. AUDIOGOLD more than capable of switching their output from
acoustic led pieces to harder rock edged tracks with the band handling the changes with verve while carving out
their own special sound.
Please enter your first name
Please enter your last name
Please enter your email address
This email address is not valid
Please enter your phone number