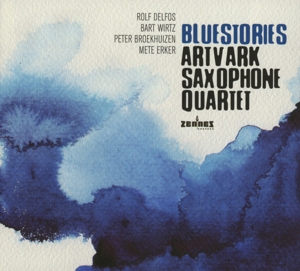 Interpret
artvark saxophone quartet
Article Number
zr-1311002
Description
The new album of Artvark saxophone quartet is called Bluestories.
After their acclaimed cooperation with soprano Claron McFadden on Sly Meets Callas, offering funky chamber jazz with poetry, this album is inspired by the blues.
Peter Broekhuizen (baritone), Rolf Delfos (alto), Mete Erker (tenor) and Bart Wirtz (alto) bring you 14 exciting Bluestories.
Stories told by saxophones. Stories like 'Bank Account Blues', 'No Sweat', 'From the Cold into the Dark', 'Storm at Sea' and 'Crocodile Tears'.
Inspired by i.e. Abdullah Ibrahim, Nina Simone, Frank Sinatra and Nelson Riddle, Duke Ellington and Billy Strayhorn.With a touch of Chicago. And a pinch of New Orleans. And not forgetting: the Dutch polder.
Please enter your first name
Please enter your last name
Please enter your email address
This email address is not valid
Please enter your phone number