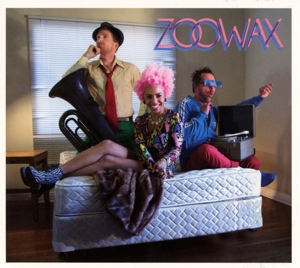 Description
Rising star and daughter of funk legend Sly Stone, Novena Carmel joins forces with Parisian-born and Los Angeles-based producer Art Bleek and his long-term collaborator vocalist and multi-instrumentalist Charlie Sputnik to introduce their new project Zoowax.

Zoowax's sound blends old-time Dixieland jazz guitars, soulful vocals and an infectious four-on-the-floor house beat.

The Album opens with "All I want" which has an Air infused feel to it, followed by their huge single hit "Nine to Five" which has been included on the CD as a video clip bonus.

The album moves on with more stand out tracks like "Taxi Driver" and "No Travel No See" with their slow building feel to them and Zoowax's infectious get up and go beats.

Another is "Méditerranée" a sun kissed summer chilled winner showing their more relaxed talents.

All round an album that with be played all summer!
Please enter your first name
Please enter your last name
Please enter your email address
This email address is not valid
Please enter your phone number