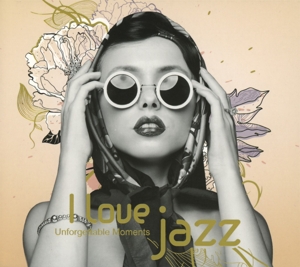 Description
Genial notes that soothe the soul, a jazzy charm that stirs the heart
-Relive classics by Gershwin, Duke Ellington, Ray Charles
-Nostalgic hits from The Beatles and The Shirelles

In a city that never sleeps, one hears the sounds of the piano, the sax, the drums, the guitar, making melodies of lightness, contention, vibrancy and unbridled joy, weaved together by voices of elegance as they permeate the streets. Relive timeless jazz classic in I Love Jazz, including French singer Charles Trenet's Que Reste-T-Il De Nos Amours; swing guru Duke Ellington's I Ain't Got Nothin' But The Blues; the theme song of Sleepless in Seattle When I Fall In Love; the Gershwin brothers' hits Love Is Here To Stay and They Can't Take That Away From Me; soul legend Ray Charles' I Can't Stop Loving You; Julie London's Cry Me A River; Oscar and Grammy winner Henry Mancini's Moment To Moment; The Shirelles Billboard singles champion Will You Still Love Me Tomorrow?; and The Beatles' Oh! Darling and And I Love Her. Soothe your weary soul, while the night quietly spreads, and stir the warm sentimental depths of your heart.
Please enter your first name
Please enter your last name
Please enter your email address
This email address is not valid
Please enter your phone number