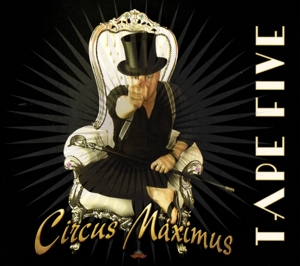 Description
Das brandneue Album "Circus Maximus" überzeugt mit seinem unwiderstehlichen Pop-Massenappeal
Martin Strathausen, Direktor und Dompteur in Personalunion, konnte unterm Zirkuszelt bzw. in der Studiomanege Spitzenartisten begrüßen.
Dazu gehören einmal mehr die Mitglieder der bewährten Bläsersektion und die Gesangssolisten Brenda Boykin (Kalifornien), Henrik Wager
und Iain Mackenzie (beide UK). Neu im Ensemble ist Dionne Wudu (Südafrika) - sie begeistert in Tracks wie "Mad Dogs On The Scene" mit
einer tiefschwarzen Soulstimme.
Wenn sich nach Trommelwirbel und Tusch der Vorhang öffnet, unterhält der "Circus Maximus" das Publikum mit einem
abwechslungsreichen Programm. Sie jonglieren hier traumwandlerisch sicher mit verswingten Housebeats ("Sax Me Up"), CharlestonKlarinetten
("Forever Young") und Crooner-Vocals nach Art von Frankieboy Sinatra ("That's The Way I Travel"), sie zaubern behände
mit Klangelementen vom Balkan ("Gipsy VIP") und wuchtigen Jazz- Trommelhieben in der Manier von Gene Krupa ("The Big Bang"), und
sie lassen in einem Trapezakt ohne Netz und doppelten Boden Swing und Punk ("Swing Punk") bzw. Swing und HipHop ("Swing With Bling")
aufeinander zufliegen. Im Zugabenteil wartet man mit einem Remix für die WDR Bigband ("Hercab") und einer Zusammenarbeit mit dem
DJ/Produzententeam Bart & Baker aus Paris ("Swing You Winners") auf.

Martin Strathausen, ring leader and director of this melting pot, welcomes his top artists into his Circus tent or rather his studio arena. Once again the tried,
tested and trusted TAPE FIVE brass section, and the vocals of Brenda Boykin (California), Henrik Wager and Iain Mackenzie (both UK). New in the
ensemble is Dionne Wudu (South Africa) – thrilling us with tracks like "Mad Dogs On The Scene" with her powerful and soulfull voice.
After the fanfare and drum-rolls the curtain rises, and "Circus Maximus"
entertains the audience with a multicolored program.
Please enter your first name
Please enter your last name
Please enter your email address
This email address is not valid
Please enter your phone number