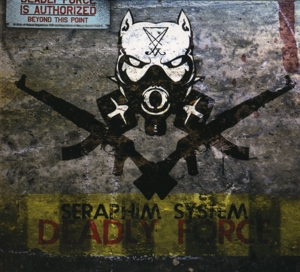 Interpret
seraphim system
Label
digital world audio
Description
Breakout label debut for this prolific producer and remixer from North Carolina. In a genre not
generally known for its sense of humor, behind his body-armor and the brutally effective
industrial beatdown of "Deadly Force" BL4KJ4K's sampling, songtitles and self-proclaimed in-
sistence on being "a cyborg from Sirius" should be sufficient indication that he is not taking
himself too seriously (or should that be "Siriusly").
This is aggressive "fundustrial" at its fearsome finest. A fusion of hard-and-heavy bass music/
EBM, with a healthy side order of noise and black humor to go. Weighing in at a fat 55 mins.,
rounded out with a further 15 minutes worth of exclusive remixes from already-established
names like PHOSGORE and C-LEKKTOR and rising stars RUINIZER and RAVE THE REQVIEM,
"Deadly Force" is designed to destroy dancefloors and put the one-man (or "one cyborg") army
of SERAPHIM SYSTEM firmly on the map as most definitely a force to be reckoned with.
Please enter your first name
Please enter your last name
Please enter your email address
This email address is not valid
Please enter your phone number