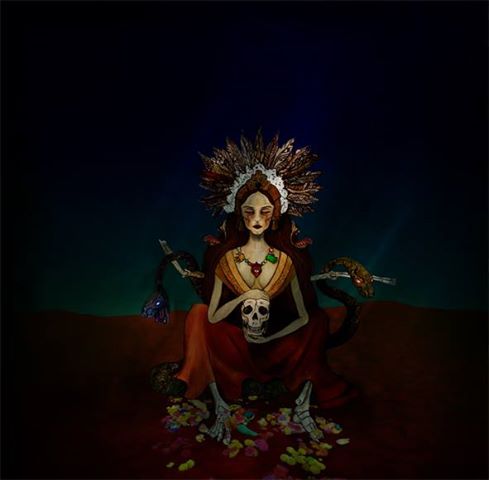 Description
Alternative rockers Japan Suicide have announced their forthcoming album 'Santa Sangre', slated for release in xx/xx 2018. Ahead of this release, they are presenting the lead track 'Circle' with an accompanying video, produced and directed by Francesco Brunotti.

The song's lyrics are inspired by Dave Eggers' novel 'The Circle' and the video by scenes from the film 'The Wicker Man', such as the procession and the sect, relating to the novel in a different way, transposing hi-tech dystopia into an ancient ritual.

Based in the central Italian city of Terni, Japan Suicide is a four-piece comprised of Stefano Bellerba (vocals, guitar), Leonardo Mori (synth), Matteo Luciani (bass), Saverio Paiella (guitar). Formed in 2010, they united over their love of Joy Division, The Cure, Nine Inch Nails, and Depeche Mode.

"We have finally produced our new album 'Santa Sangre', which was inspired by Alejandro Jodorowsky's movie and Roberto Bolaño's novel '2666', all the while moving from echoes of British post-punk to a sound replete with more psychedelic and shoegaze textures," says Stefano Bellerba. "This is a delicate, but necessary step for us: we tried to match the quality of our previous album 'We Die in Such a Place', while also adding new sounds from our past work in order to achieve a condensed powerful opera and, at the same time, a sound that is capable of achieving different listening levels."

This album follows up the 2017 single 'This Be The Verse', released on the Dark Italia compilation 'Sparkles in the Dark vol?.?4', alongside The Soft Moon and many other cutting edge artists. 2015 brought 'We Die In Such a Place' via Unknown Pleasures Records, which stylistically combines the gloomy atmospheres so beloved by Japan Suicide with more aggressive sounds, followed by their 2016 release of the '1978' EP via Darkitalia.
Please enter your first name
Please enter your last name
Please enter your email address
This email address is not valid
Please enter your phone number