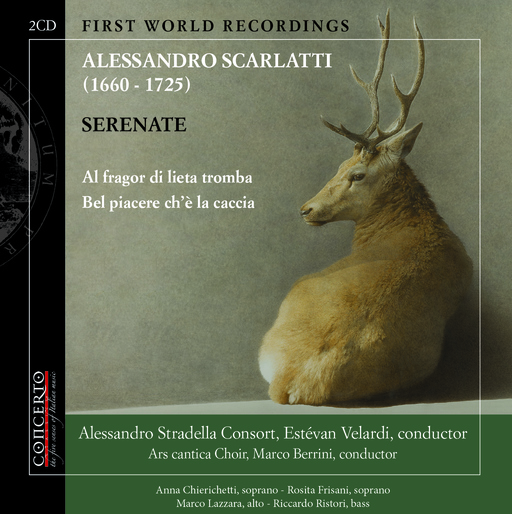 Title
Alessandro Scarlatti - Serenate
Interpret
Alessandro Stradella Consort, Estévan Velardi
Description
Alessandro Scarlatti (1660 – 1725) was the prolific composer of more than 800 cantatas. However, the majority of these compositions
are unpublished and preserved in manuscript copy only. In this context, Maestro Estévan Velardi and Alessandro Stradella Consort
will give life and exposure to two of Alessandro Scarlatti's repertoire gems: the Serenatas "Al fragor di lieta tromba" and "Bel piacere
ch'è la caccia", First World recorded in this release on period instruments. The clamshell box with contains 2 CDs and a 100 pages
volume edited by musicologists and Alessandro Scarlatti's music scholars including the late Maestro Roberto Pagano, to whose
memory the release is dedicated.
Please enter your first name
Please enter your last name
Please enter your email address
This email address is not valid
Please enter your phone number