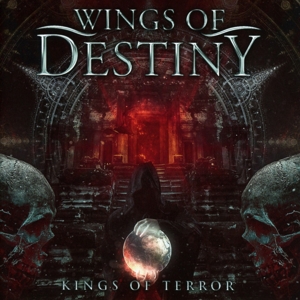 Interpret
Wings Of Destiny
Beschreibung
POWER PROG is proud to announce that the label takes care about the release and distribution of
Latin American metal maniacs WINGS OF DESTINY's upcoming album "Kings Of Terror", which will
be exclusively released as Audio-CD, download card, digital download and stream via POWER
PROG's direct sales and presentation channels at May 27, 2016. The official worldwide release
follows at June 24, 2016 with the widespread global availability as Audio-CD, as digital download
and as stream via all major platforms.
With their second album and after some line-up changes, power metallers WINGS OF DESTINY have
found their own style, which, and in every respect, stands out clearly from the genre competitors.
"Kings Of Terror" has become much darker, harder and more intense than their already highly
acclaimed debut album.
What has remained is once again strong songwriting, extraordinary instrumental feats and a smashing,
unprecedented unique production. With Fabio Lione ((Angra, Rhapsody of Fire), a renowned
guest and real metal size was obliged who gives an extra version of the track "Angels & Demons" his
special mark and which provides us a great vocal duel with WOD's exceptional singer Anton Darusso.
Once again the cover artwork was created by the sensational Caio Caldas (CadiesArt), who was
already responsible for the optical subtleties of the debut album.
As an overall summary you can say that with their second strike WINGS OF DESTINY have grown up
and arrived at the very top. From now they play in the premier league of Latin American metal and
are an integral part of the global metal scene with lots of potential for further musical masterpieces.
Bitte gib hier Deinen Vornamen ein
Gib hier bitte Deinen Nachnamen ein
Bitte gib hier Deine e-mail-Adresse ein
Diese e-Mail-Adresse ist nicht gültig
Please enter your phone number