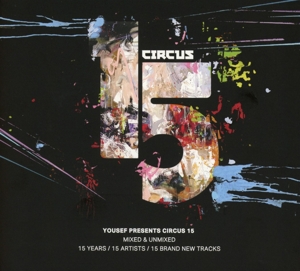 Titel
Yousef pres. Circus 15
Interpret
Various Artists
Artikelnummer
CIRCUS079CD
Beschreibung
15 OF THE WORLD'S MOST PROLIFIC DJ'S COME TOGETHER TO CELEBRATE 15 YEARS OF CIRCUS

Patrick Topping, Kerri Chandler, Catz 'N Dogz, Alan Fitzpartick - the list goes on and on as Yousef's legendary Circus reaches a historic milestone with his label, Circus Recordings, bringing together an astounding selection of world-renowned artists for a 15-track compilation album.

A year in the making, each artist has been scrupulously handpicked by Yousef himself. What's more, the album will celebrate each artist's own long-standing relationship with Circus - everyone involved has performed at Circus a vast number of times since its inception in 2002.

The album itself will take listeners and clubbers on an exhilarating journey to the depths of house and techno; from Jamie Jones's other-worldly picture of gauzy synths in 'Melodic Phase' to Alan Fitzpatrick's guttural projection of peak-time energy with 'Bhuna'; from Steve Lawler's 'Classifried' to Bontan's high-octane, 303 fueled 'You Don't Know'. There's an unprecedented selection of club-shaking, sub-destroying power here certain to excavate each and every dancefloor it comes into contact with.

Given the sheer scale of the release, the album serves as an emphatic reminder of how Circus is a truly influential and far reaching clubbing institution. Not only has Circus proven itself worthy to book these world-famous names but Yousef and his Circus team have played a pivotal role in spring boarding the wealth of talent on display here to the highest echelons of dance music fame many of them now experience.

The likes of Carl Cox, Hot Since 82 and Joris Voorn all inject a high dosage of Balearic energy before Yousef, the boss himself, provides a very special mix of the entire album to give fans a real taste of the kind of damage such a monumental release will be able to inflict on any party.
Bitte gib hier Deinen Vornamen ein
Gib hier bitte Deinen Nachnamen ein
Bitte gib hier Deine e-mail-Adresse ein
Diese e-Mail-Adresse ist nicht gültig
Please enter your phone number