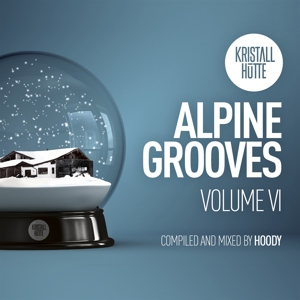 Title
alpine grooves vol. 6 (kristallhütte)
Description
Nach bisher fünf erfolgreichen Ausgaben präsentiert Musicpark records in Zusammenarbeit mit der Kristallhütte nun die Fortsetzung des Soundtracks für die Schisaison 2014/15.

Compiled und gemixt wurde die sechste Ausgabe der Alpine Grooves von DJ HOODY.
Mit feinst ausgewählten Sounds von Laid-Back bis Deep House, lädt der Mix zum stilvollen Verweilen auf der Sonnenterasse ein und lässt dabei Clubfeeling aufkommen.

Top Artist wie Chopstick & Johnjon, Andre Crom, Iyeoka u.v.m. machen Lust auf alpine Hüttenkultur der anderen Art.

After five previous successful editions Music Park records presented in collaboration with the Kristallhütte (Crystal Hut) now the continuation of the soundtrack for the ski season 2014/15.

The sixth edition of the Alpine Grooves was compiled and mixed by DJ HOODY.

With finely selected sounds from laid-back and Deep House grooves, this mix of music works its magic and invites to enjoy a classy stay on a sun-lit terrace high up in the mountains with club feeling in the air.

Top artists such as Chopstick & Johnjon, Andre Crom, Iyeoka etc. want you to feel alpine culture in a different way.
Please enter your first name
Please enter your last name
Please enter your email address
This email address is not valid
Please enter your phone number