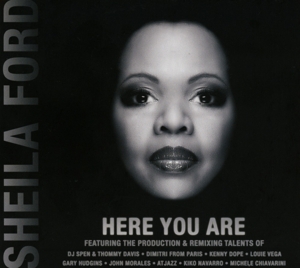 Label
quantize recordings
Description
Sheila Ford has finally released her "Here You Are" LP with much awaited anticipation from many. Sheila Ford has been singing Jazz, Blues & Dance for most of career. Listening to her smooth tones and lucid intonation denote that she is a trained vocalist and has worked with many legendary coaches and producers when she was very young. You can hear it in her crisp confidence and broad range. Already a treasure of the US and a favorite of the world, Sheila Ford and her soulful tones, vocal quality and perfect cadence is no stranger to the music world, jazz, blues, and dance.

This LP is an array of melodic productions that only touch the skillful surface of a star. She has been working with DJ Spen and a team of other producers and composers over the years, and this release gives you a historic momentary glance into who she is. Unparalleled in her vocal talents, Sheila has the unique ability to mimic instrumental sounds with vocal improvisations of scatting, which have become her signature technique in addition to her soulful jazz styling.

On this LP, she is paired with writers, producers & composers from around the world. By having various producers and remixers gives Sheila an opportunity to showcase that she has it all, and can do it all. The songs range from classic smooth jazz to energetic dance, to percolating Latin rhythms, and soulful songs that demonstrate her extensive talent.

Featured producers on this LP include Louie Vega, Kenny Dope, Atjazz, DJ Spen, Michele Chiavarini, Dimitri From Paris, John Morales, Joey Negro & Gary Hudgins.
Please enter your first name
Please enter your last name
Please enter your email address
This email address is not valid
Please enter your phone number