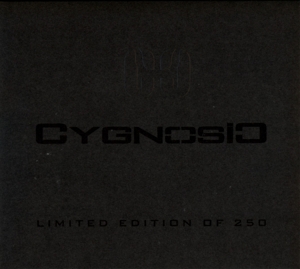 Title
cygnosic limited! digi
Label
digital world audio
Description
First edition (250 copies worldwide) in 6-panel black-on-black digifile packaging, plus x2
6-page lyric booklets, O-card outer case and embossing
Deluxe 2CD retail version of the new album, following the massive promotional giveaway of the
basic album with December issue of German "Orkus!".
Within less than 12 months of release, CYGNOSIC's 2013 album "Fire and Forget" had already
completely eclipsed the best-selling "Fallen" (2011) in terms of digital revenue alone - no doubt
driven by the massive popularity of the track "Mad Desire", which has registered over 3 million
plays on YouTube.
An extended 2CD edition of "Fallen" and a collector's edition of the out-of-print 2009 debut "A
Deity In Pain" were released simultaneously at the tail-end of 2012 and are both nearly sold out.
Following nearly 2 years of touring - taking in numerous major European music festivals and
culminating this June in a triumphant appearance on the main stage of Wave Gotik Treffen -
comes this, the self-titled 4th album.
Musically, unsurprisingly, it does not disappoint - fans of what has now become CYGNOSIC's
instantly recognisable style will find everything they have always loved and more in the distinctive
dark electro on offer here. This, truly, definitively, IS "CygnosiC".

"CygnosiC" comes in an eminently collectible 2CD special edition - with a complete 2nd album's
worth of tracks from "CygnosiC", "Fire and Forget" and "Fallen" all re-imagined and re-recorded
as full-on rock songs.
Please enter your first name
Please enter your last name
Please enter your email address
This email address is not valid
Please enter your phone number