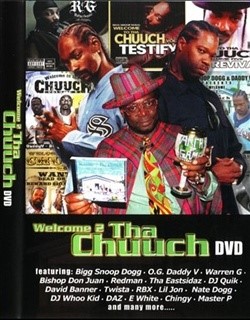 Title
Welcome 2 Tha Chuuch
Description
WELCOME TO THA CHUUCH is a collective created in 2.003 by SNOOP DOGG and OGDDADY with the porpuse of promoting new talent in DOG HOUSE RECORDS. As a result we can say that this has resulted in a serious of Mixtapes CD featuring some fame in the world of Hip Hop. This is the DVD of the existing environtment in DOG HOUSE RECORDS and as hosts of this film, both as OG SNOOP we will be guided from North to South and East to West USA seeing how they are spent in the study of this group of artist. It´s certainly not a traditional recording because it includes some cuts somewhat out of place and even unfucosed where artist unleash your occurrences of the most extravagant at times.

Among the most notable short colaborations we have:
BIGG SNOOP DOGG, O.G. DADDY V, WARREN G, BISHOP DON JUAN, REDMAN, THA EASTSIDAZ, DJ QUICK, LIL JON...
Please enter your first name
Please enter your last name
Please enter your email address
This email address is not valid
Please enter your phone number