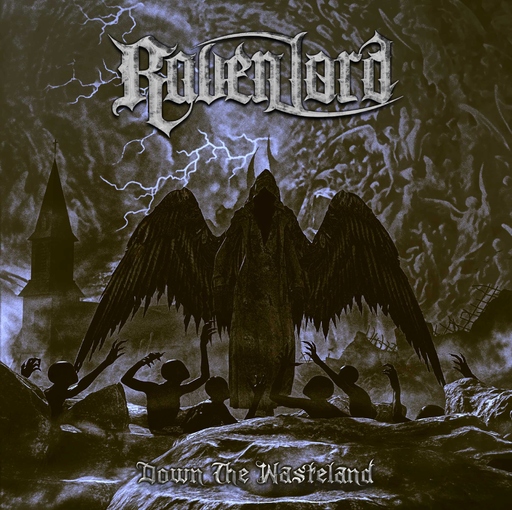 Article Number
DR-2018-01
Description
Die international und mit hochkarätigen Musikern besetzte Band RAVEN LORD fügt die Stärken der alten Metal-Legenden zu einem neuen Sound zusammen. Bei dieser Band verschmelzen die Wurzeln des Heavy Metals, wie wir sie insbesondere bei der Musik von DIO, JUDAS PRIEST, YNGWIE MALMSTEEN oder BLACK SABBATH lieben, mit modernen Komponenten. Donnernde Basslinien, hämmernde Drums und Gitarrenriffs von der Schärfe einer Rasierklinge, dazu gesellen sich die melodischen und doch energiegeladenen unvergleichlichen Vocals - all das vereint sich bei RAVEN LORD zu einer besonderen Art von Heavy Metal Entertainment.
"Down The Wasteland" ist nach dem 2014 veröffentlichten und von den Kritikern hochgelobten Debüt "Descent FromThe Underworld" der zweite Longplayer von RAVEN LORD.

Zvekan bildet mit Lead-Gitarrist Joe Stump das "dynamische Duo", die zweite Gitarre bedient George Karafotis und die Rhythmussektion wird von Bassist Lucio Manca und dem neuen Drummer Garry King gebildet. Als Gastmusiker an den Keyboards konnten Maestro Mistheria und Fab Jablonski verpflichtet werden. Produziert, gemixt und gemastert wurde "Down The Wasteland" 2016 im Total Master Sound Studio in der Schweiz.


Für alle Freunde der harten Klänge aus den 80er Jahren ein Genuss - RAVEN LORD sind die neuen Judas Priest.
Please enter your first name
Please enter your last name
Please enter your email address
This email address is not valid
Please enter your phone number