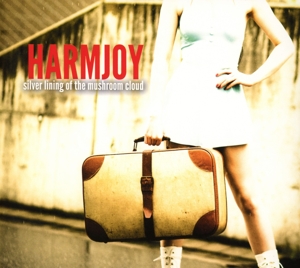 Title
silver lining of the mushroom cloud
Label
73 seconds bismarck records
Description
Limited Digipack

Mit ihrem Debutalbum "Silver Lining of the Mushroom Cloud" schafft es das deutsch-amerikanische Elektro-Synth Duo HARMJOY die Beats absoluter Spitzentechnologie und die Kalter-Krieg-Ästhetik des Fetisch hinter verschlossenen Türen des Spießertums der 50er beängstigend zu vereinen.
Wie der Name des Duos, verwischt auch in ihrem eigen Stil das Bekannte mit dem Gewöhnungsbedürftigen, das Klassische und das Anstößige - das Konzept der Gegensätzlichkeit "Schadenfreude" wird durch Text und Musik perfekt umgesetzt. Die Arbeit des Atlantik überspannenden Duos stützt sich dabei jederzeit auf seinen Background aus der symphonischen Musik, wie auf seine langjährige Einbindung in die Dark Electro Scene. schwedischen Synthpopband Titans), gibt Harmjoy der Industrial Music neue Denkanstöße.
Tanzen oder zuhören? Überschäumen oder nachdenken? Der Hörer hat die Wahl - aber hat er sie wirklich?
Mit dem Sound von Ølåf Å. Reimers (Komponist und Mastermind des EBM Urgesteins Tyske Ludder) und den Texten von Dan von Hoyel (Stimme der Band Titan)


With their debut album, "Silver Lining of the Mushroom Cloud," the German-American electro-synth duo HARMJOY embraces the beats of bleeding edge technology and echoes the Cold War aesthetics of 1950s household fetish. Blending the classic and the edgy, the familiar and the fantastical--using both lyrics and music--HARM JOY evokes the dichotomy of the word it's based on: Schadenfreude. The duo draws on their symphonic music backgrounds and long histories of involvement in the dark music scene. With music by Ølåf Å. Reimers (originally from Friesland and the composer behind the EBM band TYSKE LUDDER) and vocals/lyrics by Dan von Hoyel (from San Francisco and the voice of the Swedish synthpop artists TITANS), HARM JOY brings a thought-provoking flavour to industrial music. Dance, or listen? Seethe, or reflect? The choice is the listener's. Or is it?
Please enter your first name
Please enter your last name
Please enter your email address
This email address is not valid
Please enter your phone number