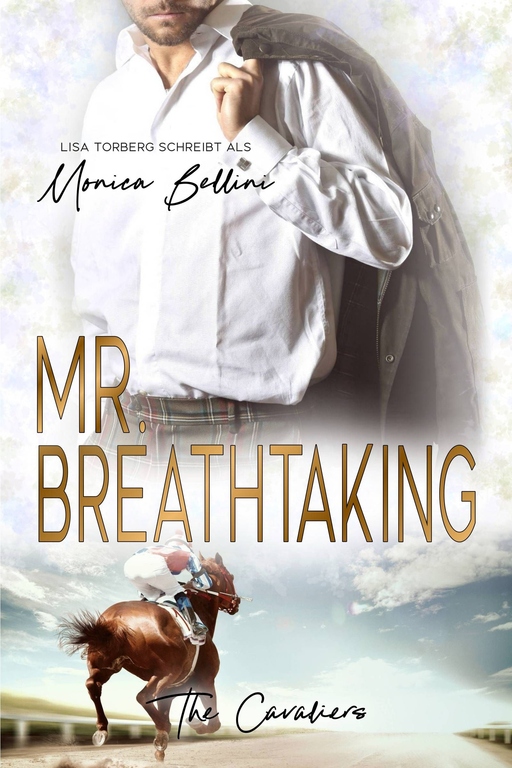 Title
Mr. Breathtaking
Author
Torberg, Lisa / Bellini, Monica
Description
Ihre Initialen ergeben das Wort CAVALIER … was sie definitiv sind … abgesehen von atemberaubend sexy und scharf wie Chili. Kurz gesagt: Hot as Hell.
Sie sind The Cavaliers.
E.R. sind die Initialen des Engländers Ethan Reed. Das ist seine Geschichte.

Ethan Reed, der Alleinerbe des Duke of Somerset, lebt für seine Rennpferde. Frauen und andere Lebewesen passen nicht in sein Leben. Das ist eine unumstößliche Tatsache. Bis er einen schwer verletzten Border Collie findet und auf die bezaubernde Hundepflegerin Lottie trifft, die bei seinem Anblick erstarrt – und ihn zum Teufel schickt. Mit Menschen, die keine Hunde mögen, will sie nichts zu tun haben – aber er mit ihr.
Princess Charlotte widmet sich gleichermaßen ihrem offiziellen Leben und ihrer geheimen Leidenschaft. Nur Queenie, ihre Malteser-Hündin, teilt beides mit ihr. Doch dann steht plötzlich Ethan Reed vor ihr – und erkennt sie nicht. Wie denn auch? Und dass ihr Alter Ego Lottie in seiner Nähe weiche Knie bekommt, macht alles noch komplizierter ...

Abgeschlossener Liebesroman mit heißen Szenen, Happy End nicht ausgeschlossen.
Please enter your first name
Please enter your last name
Please enter your email address
This email address is not valid
Please enter your phone number