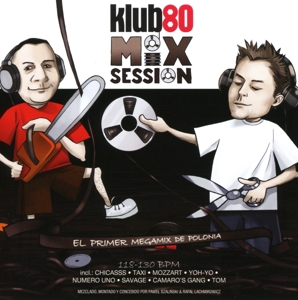 Description
Max Mix collection debuted on the Spanish market in 1985. It was Javier Ussia and Mike Platinas' reaction to poor technical quality of sets released at that time. Max Mix proved a hit all over Europe; as the DJs aimed really high, they set an unparalleled standard for other dance music producers. The Spanish album was full of special effects and masterly scratches. The artistry of sound engineering surprised the world to such extent that a special movie about how Max Mixes were produced was made.
In 1986 two DJs: Jose Maria Castells and Toni Peret stood in for Javier and Mike as producers of Max Music company's flagship series and cooperated with the company till 1992.
Even today, Max Mix series is perceived a paragon when it comes to studio mixes as it is full of ideas on how to make hits more attractive, using analog technique. Those days Spain was a world class pioneer in such productions.

Nowadays, although the glory days of italo and euro disco melodic recordings and such mixes are long gone, there are still freaks who create their own mixes inspired by the ideas of Platinas, Ussia, Castells and Peret.
A great many such unofficial recordings may be found on the Internet.
Max Mix became popular also in Poland where people admire Max Music company and its products. Therefore, Klub80 Records has decided to pay homage to Max Mix series and those who remember going mad on dancefloor at Max Mixes.
We would like to present you to a Klub80 Mix Session CD, where, apart from two sets which have been prepared in the way Max Mix sets used to be made, you will also find unpublished or absolutely unique remixes made specially for this release. This is the first official project of this kind outside Spain and we do hope that everyone who loves music of the 80s, especially fans of special effects and mixes, will find it to their liking.
Have a nice listening.
Please enter your first name
Please enter your last name
Please enter your email address
This email address is not valid
Please enter your phone number